Do you have the right compliance tools and best practices in place?
Download our free e-book guide to learn the tools your team can implement to ensure your customers and your team are compliant in our ever-changing industry.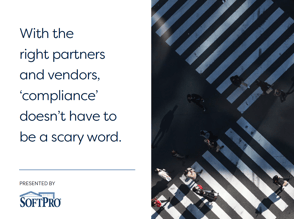 The last few years in the title insurance and closing and settlement industry have been a whirlwind when it comes to this subject. Remember the TRID rollout and the emphasis on the American Land Title Association's Best Practices? Throw in a collective effort to become more transparent and forward-facing for consumers, the battle against wire fraud and other data security concerns, and the need to get – and stay – compliant has likely felt like a never-ending battle.
You deserve vendors and partners who are as dedicated to compliance as you are. Read our guide to learn the tools you can use to stay compliant and how a dedication to compliance will not only benefit your customers, but you, as well.
In this e-book, you'll learn:
What compliance is and what it is not

Tools and products you can use to help keep you compliant

How to let your customers know about your dedication to compliance

How the partners and vendors you choose to work with can help you meet compliance and best practice standards