SoftPro 360 is the free vendor portal that connects you with the closing, title and escrow service providers you need.
Order products and services such as e-Recording, lien releases, CPLs and jackets, remote online notarizations, eClosings, and more directly from your SoftPro software.
Contact us to get started with SoftPro 360 now:
Quick jump to a specific section on this page:
| | |
| --- | --- |
| Watch our 2 minute video to see how SoftPro 360 can work for you: | Hear why our customers love SoftPro 360: |
What is SoftPro 360?
Did you know that SoftPro 360 is included for free in every edition of SoftPro software? This means that our vendor portal is available to you now... and if you aren't using it already, you can start at any time! With SoftPro 360, you can place orders for all of your closing, title and escrow products and services in one place without ever leaving your SoftPro software. You simply pay the provider for the products or services that you order, usually at a preferred rate, saving you money. Plus, all of the information from your order is automatically passed back to your SoftPro file, so there's no need to rekey information or visit multiple websites. SoftPro 360 is integrated with 60+ vendors and counting, giving you access to all of the leading service providers in the industry for services such as e-Recording, closing protection letters and jackets, lien release tracking, property records search, Remote Online Notarization, eClosings, and more.
Curious what service providers are available to you? Access our full list of integrated partners.
Learn more about the vendor portal - download our free SoftPro 360 e-book.
What are the benefits of SoftPro 360?
Included for free in all editions of SoftPro software
Eliminates the need to rekey information, visit multiple websites, or place phone calls for orders
Saves you money, as many of the products and services are offered at a preferred rate
Simple and easy to use
Allows you to order directly from SoftPro, saving you time
Provides access to 60+ leading industry vendors
How do you log in and start using SoftPro 360?
Ready to start taking advantage of the time and money savings that SoftPro 360 has to offer? Getting started is easy. How you access and log in to SoftPro 360 will depend on the edition of SoftPro software that you use.
Not a SoftPro customer yet, but interested in learning more about SoftPro 360 or seeing a free demo? Contact us today.
Follow the instructions below for either our SoftPro Standard and Enterprise editions or the SoftPro Select edition:
Not sure which edition of SoftPro you use? Open your SoftPro software. If you see "SoftPro Select" in the mid-left area of the window, you are using the Select edition. If you see "ProForm Standard Edition" or "ProForm Enterprise Edition" in the top left window, you use Standard or Enterprise respectively.
How to access SoftPro 360 in Standard or Enterprise:
After opening SoftPro, click on the "Services" tab in the top menu bar. In the drop-down menu, click on "SoftPro 360 Console".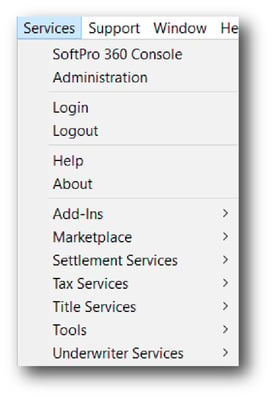 How to access SoftPro 360 in Select:
After opening SoftPro, click on the "360" tab in the top menu bar.

In any edition of SoftPro, if you're accessing SoftPro 360 for the first time, you'll be presented with a login screen. If you currently have login credentials for mySoftPro or SoftPro LIVE, you will use those same credentials to log in to SoftPro 360. If you do not have mySoftPro or SoftPro LIVE credentials, you will need to create a new account by clicking the "Register New Account" option on the login screen. You'll receive an email with a temporary SoftPro 360 password. Use this password and your email address to log in for the first time. You will then be required to change the temporary password. By default, the "remember credentials" checkbox is selected so you don't have to log in each time you want to use SoftPro 360.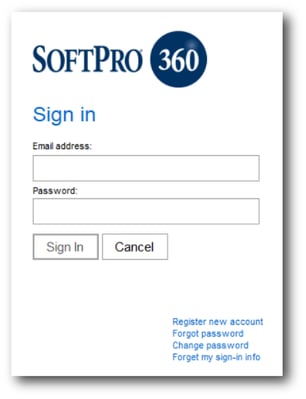 Have additional questions about SoftPro 360 or need assistance getting started?
We're happy to help. Reach out to us below!