Discover how SoftPro LIVE can simplify your closing communications.
Do you ever struggle with keeping all closings parties in the loop? Download our free guide to learn how SoftPro LIVE can simplify your closing communication process with the ability to share documents, send messages to your customers and track your closings - 24 hours a day, 7 days a week.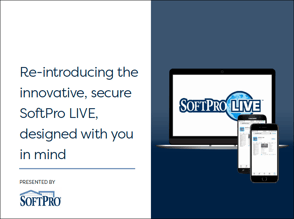 It has been almost seven years since we introduced SoftPro LIVE, the customizable tool that empowers title professionals to communicate with their real estate agents, buyers/sellers, attorneys and lenders at any time. But we know not all of you – or the industry as a whole – realize how useful this product can be for you. We've been adding features in the last couple of years and want to make sure you know everything it can offer your company now.
SoftPro LIVE continues to evolve because our team is always adding to and modifying the product to make it better and more-user friendly. SoftPro users can use LIVE as a secure way to communicate with everyone involved in the closing process anytime from anywhere, including when using mobile devices. And that is only part of what LIVE can do for you these days.
Download our free guide to learn how you can keep all closing parties in the loop with SoftPro LIVE, with the ability to:
Easily upload contact information and documents
Track the status of your closing from start to finish
Share documents, emails and tasks automatically
Create custom emails and a LIVE website with your own branding material
Send two-way messages to involved parties that flow directly into your SoftPro software
Hyperlink important and related documents to your order
And more!